LATEST NEWS ... October 14, 2017 ... Planning for cruising the Balearics in 2018 is complete. Send in your deposit!
We shall not cease from exploration
And the end of all our exploring
Will be to arrive where we started
And know the place for the first time.
- T. S. Eliot
Being in a ship is being in a jail,
with the chance of being drowned.
- Samuel Johnson
The world is a book,
and those who do not travel
read only a page.
- Saint Augustine
Welcome ...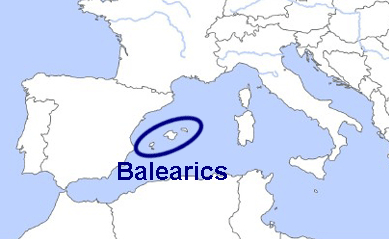 ... to the website for the annual bareboat sailing charter of the Francis family and friends. Our destinations are worldwide, limited only by our imaginations, our budgets, and the bareboat charter industry. See the photo gallery for some images of cruises past.
In 2018 we will return to the Mediterranean for the tenth time, to cruise the Balearic Islands of Spain, which we cruised once before, in 2007. The name of the island group is not widely known, but the individual islands themselves are quite familiar, at least by name. However you spell them, Mallorca (or Majorca) and Menorca (or Minorca) are names we've heard. Even Ibiza might be familiar to those who follow the follies of the rich, famous, and indolent (most recently Prince William). Its legendary nightlife has earned for it the nickname "nightclub capital of the world."
These islands are the most popular holiday destination in Europe. Their climate, scenery, and beaches are exceptional, and their inhabitants have a tradition for being particularly hospitable. In spite of the close proximity of the different islands and the very many common ties between them, each one has its own very different landscape. Majorca has a magnificent coastline consisting of rocky outcrops intermingled with many small coves that offer excellent sandy beaches.
Menorca, on the other hand, is noted for its tranquility, while Ibiza is remarkable for its nightlife. The smaller islands of Formentera and Cabrera are extremely solitary. (read more)

How do you pronounce "Balearic"? The following limerick opts for 4 syllables ...

On the isles Balearic, near Spain,
Where it's pouring rioja, not rain,
In the clubs of Majorca,
Ibiza, Minorca,
Carousing's our constant refrain.

Thus, Balearic is bal-ee-ARE-ic, Majorca is muh-YORK-uh, Minorca is min-ORC-uh, and Ibiza is ee-BEES-uh. And, by the way, rioja (ree-OH-ha) is a Spanish red wine.